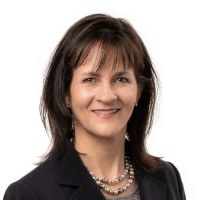 Heather Wishart-Smith
Future-Fit Manifesto Contributor
Senior Vice President, Technology & Innovation, Jacobs
Ms. Wishart-Smith is the Senior Vice President, Technology & Innovation for Jacobs. With approximately $14 billion in revenue and a talent force of more than 55,000, Jacobs provides a full spectrum of professional services including consulting, technical, scientific and project delivery for the government and private sector.

Her prior roles include Buildings & Infrastructure Mid-Atlantic Regional Manager; Federal Department of Defense Market Sector Leader; Sales Executive; and Principal of multiple large, full-service programs for the Army, Navy and Air Force worldwide. A former Navy Civil Engineer Corps officer, Ms. Wishart-Smith served at the Presidential Retreat, Camp David during two Presidential administrations, among other duty stations. She has published and presented articles on leadership, architecture, engineering and construction topics in the military and transportation sectors, and she is a regular Forbes contributor.

Ms. Wishart-Smith holds Bachelors and Masters of Science degrees in Civil Engineering from the University of Virginia. Awards include the Society of American Military Engineers (SAME) Gerald C. Brown Mentoring Award and Tudor Medal, and ENR's "Top 20 Under 40" Mid-Atlantic. Ms. Wishart-Smith is a Fellow of SAME and its national President for the 2020-2021 centennial year, and she has held numerous leadership positions in the Society. She is also a Fellow of the American Society of Civil Engineers.