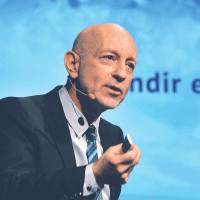 Raphael H. Cohen
Future-Fit Manifesto Author
Academic Fellow, University of Geneva
Raphael H. Cohen, Ph. D. has been a professor, keynote speaker, author, mentor and expert in professional agility, "weapons of mass innovation" and team engagement.

In academia he is the director of the Entrepreneurial Leadership specialization of the Executive MBA at the University of Geneva. He has also been the European MBA Academic Program Director of the Thunderbird School of Global Management, and director of the first course of entrepreneurship in Switzerland at the Swiss Federal Institute of Technology (EPFL).

He has conceived the IpOp Model, which is presented in "Winning Opportunities, proven tools for converting your projects into success… without a business plan". This model that is taught in executive education seminars and MBA programs empowers entrepreneurs as well as intrapreneurs to identify, analyze and seize opportunities. Its rigorous selection criteria reduce delays and waste of resources in project management. Raphael's expertise in innovation led him to coordinate the design of ISO 56003, a standard on innovation partnerships.

Raphael is also an expert on team engagement, which is the topic of his latest book "Les leviers de l'engagement". He outlines the central role of fairness and benevolence in obtaining engagement through "just leadership" with the corresponding actionable tools.

Raphael's approaches boost innovation, entrepreneurial behavior, business development as well as employees' engagement. Since participants in his MicroMBA training programs must find and exploit real opportunities, their projects generate measurable profits exceeding by far the cost of the training. In this profit-generating approach that represents a paradigm shift in executive education, Raphael has already mentored more than 280 such real intrapreneurial and entrepreneurial projects.

Raphael's diversified working experience on 3 continents has led him to build expertise in innovation, leadership, governance, strategy, project management, finance, banking, negotiation, tax and HR.