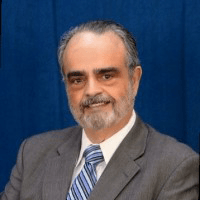 Rick Fernandez
Future-Fit Manifesto Contributor
President, 20-20 Innovation, Inc
Rick Fernandez is the President of 20-20 Innovation, Inc., a joint venture between Strategy Associates and Advent Group, Inc. He has over 30 years experience in the area of Innovation and Operations. He specializes in the improvement of Operational Performance, focusing on the Procurement Function and Supply Chain Management. He has led Innovation efforts in manufacturing, health care, distribution, pharmaceutical, logistics, government, utility, education, banking, telecommunications, and publishing industries.

Rick is currently serving as the Vice-Chairman for the US TAG for TC-279 Innovation Management System that is developing the new Innovation Management System Standard Series ISO 56000. He has led Innovation and Operational initiatives that yielded well over $75 million in documented operational savings to clients while at the same time improving quality and service to their customers. As a Lean Six Sigma Master Black Belt he focuses on the reduction of inventory, elimination of waste, the reduction of cycle and response times, and the improvement of quality and customer satisfaction.

Rick was a contributing author in the area of Innovation Measurement to the recent book, "Total Innovative Management Excellence (TIME): The Future of Innovation" which was published in 2020, by Taylor and Francis Group. He also co-authored a book on "The Framework for Innovation" which was published in September 2018, by Taylor and Francis Group. He is also the author of the book, Total Quality in Purchasing and Supplier Management, which was adopted by various universities as a textbook in their Supply Chain curriculum.

During that time, he also served as an Examiner for the Malcolm Baldrige National Quality and Performance Excellence Award as well as a Senior Examiner for Florida's Sterling Award for Performance Excellence and as an Advisor for the Bahamas Quality Award. He has been a featured speaker at various international conferences and satellite presentations for ISM and published numerous supply chain articles. He also led the Miami Chapter of the Industrial and Systems Engineering Society to the number one spot internationally for two consecutive years.

He has been an adjunct professor at a few South Florida Universities including NOVA in Engineering and Business Schools, as well as foreign Universities teaching Lean Six Sigma, Operations Management, Supply Management, and Quality courses. Rick has a BS in Industrial Engineering and an MS in Quantitative Business from the University of Miami. He is a Lean Six Sigma Black Belt, a Certified Purchasing Manager and was an active Registered Professional Engineer in the State of Florida for over 25 years.