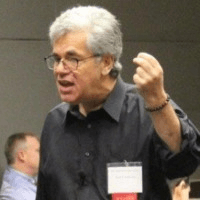 Rick Freedman
Future-Fit Manifesto Author
Enterprise Agile Consultant, Bank of America
Rick Freedman, author of "The Agile Consultant", has experienced the agile transition from the inside. He has been working as an agile coach and trainer since the beginning of the agile movement. Rick has 30 years of experience as a strategic consultant, both as an employee of large corporate organizations like Citicorp and Dun & Bradstreet, and as a Principal Consultant for Cap Gemini, NEC, and Intel. As Worldwide Project Management Leader for Intel from 2001-2005, Rick evangelized, trained, and coached Intel project managers in the US, UK, China, India, Germany, and Australia.

Since leaving Intel, Rick has consulted with clients such as Microsoft, HP, Motorola, NASA, BP, Marriott, Verizon, H&R Block, Blue Cross Blue Shield, The US Dept of the Treasury, The US Army, SEGA, Bank of NY, and The People's Republic of China. Rick has also contracted with StratEx, the worldwide training company, as their key agile consultant. He authored StratEx's original "Agile Project Management" course.

Rick is the author of "The IT Consultant", "Building the IT Consulting Practice", and "The eConsultant". He lives in Lenexa, Kansas, a suburb of Kansas City, with his wife of 35 years and two spoiled golden retrievers.