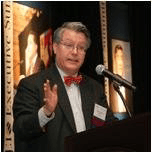 Thornton May
Future-Fit Manifesto Contributor
Founder, Futurist & Executive Director, The Digital Value Institute
Thornton May is a futurist, author and educator. At Dartmouth College, Keio University (Tokyo) and the Center for Japanese Studies at the University of Michigan, Thornton studied Japanese technology policies and practices during the Meiji Restoration (1868 through 1912), post-World War II and 1970s. Living in Tokyo, Thornton managed emerging technology investments for several Japanese companies. At five feet, seven inches, he played professional basketball in Japan.

Thornton returned to America to lead technology research at the Nolan Norton Institute. His research team is credited for coining the phrase "Chief Information Officer" in 1981. Thornton pioneered the multi-client research program designed to discover deep insights associated with emerging technologies.

Thornton was hired by noted futurist Alvin Toffler (Future Shock, Third Wave, Power Shift and Revolutionary Wealth) to manage the technology futures program for Toffler Associates.

His work as a futurist and anthropologist position him as part Paul Revere (the one to sound the alarm) and part Arnold Toynbee/Edward Gibbon (the one who explains what has happened/what is happening).

Thornton has taught at four major universities, writes columns on technology for three leading publications, researches at four think tanks, advises major organizations and government agencies on how to think differently about technology, all the while conducting seminal anthropological field research into technology-use behaviors of the various tribes comprising modern society.

His book "The New Know: Innovation Powered by Analytics" examines the intersection of the analytic and executive tribes.

eWeek honored Thornton as one of the 'Top 100 Most Influential People in IT.' Fast Company labeled him 'one of the top 50 brains in technology today'. Thornton is a founding member of the Internet of Things World Forum. Thornton co-founded the Digital Value Institute in Norway and the Digital Solutions Gallery at the Ohio State University.